Repair • Sales • Installation
License# 8605
Reliable Plumbing and Heating Services in Haskell, NJ
Are you sick of unbearable heat during sweltering summers and shivering through frigid winters? We offer the finest plumbing, heating, and air conditioning services in Haskell, NJ Begin your journey to a home with a peaceful indoor environment. Avoid all your plumbing and air conditioning issues; it's time to take charge of your home's comfort!
You need a trusted service provider for your home's essential systems, like drainage and air conditioning. Our team ensures you have access to top-quality services in Haskell, NJ that effectively address any issue. Whether you have a leaking faucet, a broken air conditioner, or an obstructed drain, it is essential to have a trusted service provider on speed dial. We are the best plumbing and A/C repair providers to help you make informed decisions for the comfort and functionality of your home.
Best Air Conditioning Company in Haskell, NJ
We understand the importance of properly functioning air conditioning, particularly during the scorching summer months. Our finest AC services in the area comprehend the significance of maintaining a relaxed and comfortable home. We offer various services to meet your requirements, including installation, maintenance, and repairs for air conditioners.
These services include highly trained technicians with the most up-to-date air conditioning technologies. We know how to diagnose and resolve any problems efficiently. Our staff also suggests energy-efficient options to save you money and reduce your carbon footprint.
Expert AC Repair Services in Haskell, NJ
When your AC unit begins to malfunction, you need access to efficient AC repair services in Haskell, NJ. Our professionals have the knowledge and experience to resolve various air conditioning issues. Whether it's a refrigerant leak, a malfunctioning compressor, or thermostat problems, we quickly diagnose the issue and offer practical solutions.
Not only do our expert AC repair services address the immediate issue, but they also conduct thorough inspections to identify potential issues before they get worse. This approach ensures that your air conditioning system operates efficiently and prolongs life.
Affordable AC Installation
If you need a new AC installation in Haskell, NJ cost-effectiveness is likely your top priority. We understand that purchasing a new air conditioning system is expensive, and we strive to make it as affordable as possible. We offer low prices on high-quality air conditioning units and provide installation services to ensure the system works correctly and performs optimally.
We provide a smooth AC installation for your comfort. Our expert technicians will determine your home's cooling demands and recommend the best AC system. Once you decide, we'll schedule a convenient installation. Our technicians will arrive on time and carefully install your new AC unit for the best performance. We'll also advise on cooling system use and maintenance to keep it working correctly for years. Our top-notch AC installation services ensure a calm and pleasant house.
Central Air Conditioning Installation in Haskell, NJ
Our Central air conditioning installation is the best option to cool your entire residence efficiently. These systems equitably distribute cool air throughout your home, ensuring comfort in each room.
Central air conditioning installation in Haskell, NJ is a specialized service that requires in-depth knowledge of your home's layout and cooling requirements. We evaluate your home's needs and recommend the ideal central air conditioning system. To ensure a seamless installation, we consider factors such as the size of your property, insulation, and existing ductwork.
Same-day Central Air Conditioning Replacement & Repair
During the peak summer, air conditioning malfunctions can be incredibly annoying. It is where our same-day central air conditioning repair services come to the rescue. Our services recognize the critical nature of your situation and prioritize quick responses.
When you request repairs, we offer technicians to diagnose and resolve the problem. Our well-equipped staff carries various replacement parts, allowing us to determine most issues on the spot. Our commitment to prompt service enables us to regain your comfort without lagging the process.
Quick Heating Repair in Haskell, NJ
During the frigid winters in Haskell, NJ having a reliable heating system is just as essential as having air conditioning during the warm summer. And when your furnace or heat pump malfunctions, heating repair services in your area are your only hope.
A malfunctioning heating system poses a safety risk, particularly in freezing temperatures. We provide quick response times to ensure your home is warm and comfortable. Whether it's a malfunctioning thermostat, an issue with the pilot light, or a worn-out blower motor, our skilled technicians can efficiently diagnose and repair all your heating problems.
Heating System Installation
When it's time to replace your heating system, whether due to age or irreparable damage, you need a proper heating system installation. your heating system's long-term efficiency and dependability depend on its facility.
We offer installation for your preferred heating system, such as a gas furnace, an electric heat pump, or hydronic heating. It ensures that your home's new heating system is a perfect fit.
Heating System Repair Services
Over time, even the best-maintained heating systems develop problems. In this situation, you require heating system repair services in Haskell, NJ to restore order. Our experts are well-versed in the complexities of various heating systems and efficiently diagnose and solve the problems.
Whether the issue is a congested air filter, a malfunctioning thermocouple, or a broken heat exchanger, we have the knowledge and equipment to fix it. In addition to restoring your home's warmth, prompt heating system repair prevents further damage and potential safety hazards.
Boilers are the best option for home heating in Haskell, NJ. Like any system, we provide efficient heating but require routine maintenance and occasional repairs. Local boiler services with expertise in every aspect of boilers will ensure your home remains heated during the coldest months.
Efficient Boiler Installation
Installation of a boiler is a precise task that requires attention to detail. The finest boiler installation services in Haskell, NJ recognize the significance of choosing the ideal boiler for your heating requirements. The perfect boiler size and type are determined by factors such as the size of your residence, the number of radiators, and your hot water needs.
We ensure the installation adheres to local codes and safety standards. Not only does a properly installed boiler heat your home efficiently, but it also reduces the risk of accidents and carbon monoxide escapes.
Boiler Replacement & Repair Service
Boiler problems can range from minor glitches to severe breakdowns. When you encounter boiler problems, you must have access to a dependable boiler repair service.
Our professionals have an in-depth understanding of boiler systems and can rapidly determine the source of the issue. Whether it's a faulty pump, flawed thermostat, or pressure-related point, we have the knowledge and equipment to restore the functionality of your boiler.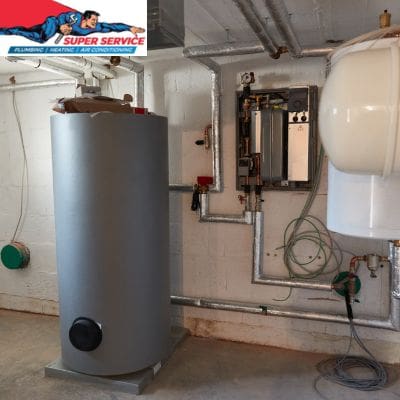 Efficient Furnace Repair & Replacement Services in Haskell, NJ
Due to their efficiency and effectiveness, furnaces are a prevalent method of heating homes in Haskell, NJ Township, NJ. Like all mechanical systems, furnaces also require occasional repair and eventual replacement.
You need quick furnace repair services when your heating system malfunctions. Our company employs a team of expert technicians who are adept at diagnosing and fixing furnace problems. Whether the issue is a Defective ignition system, a malfunctioning blower motor, or a clogged air filter, we can fix it quickly.
In addition to keeping your home heated, we offer prompt furnace repair to prevent potential safety hazards like carbon monoxide leaks. These services prioritize your security and comfort.
We ensure the process goes smoothly and quickly when installing a new furnace in Haskell, NJ A reputable furnace installation service recognizes the significance of choosing the right furnace for your home's thermal requirements.
We consider factors such as the size of your property, insulation, and energy efficiency preferences. We recommend the ideal furnace model and size by meticulously evaluating your needs, ensuring your home remains warm and cozy throughout winter.
Types of Furnaces We Install
We recognize that one size does not suit all when it comes to heating your home in Haskell, NJ. We offer a variety of furnace options to meet your specific requirements. The categories of furnaces we install are as follows:
Gas Furnaces: They are a popular option for their efficacy and affordability. They utilize natural gas or propane to produce heat, making them a dependable choice for local residences. Our expert technicians are well-versed in gas furnace installation, ensuring your home is toasty, and your utility bills remain reasonable.
Electric Furnaces: Electric furnaces are renowned for their ease of installation and simplicity. They are an excellent option for households without natural gas access. Our installation specialists efficiently install your home's electric furnace, providing dependable heating.
Oil Furnaces: Oil furnaces are a dependable and resilient form of heating. They are ideal for homes in regions with limited access to natural gas connections. Our technicians are adept at installing oil furnaces, ensuring your home is warm and comfortable even during the coldest months.
Hot water is necessary in every home, and when your water heater malfunctions, it interferes with your daily life. Water heater replacement services in Haskell, NJ are available to ensure you always have access to hot water.
Our services offer water heater options, from traditional tank-style heaters to energy-efficient tankless models. We evaluate your hot water requirements and assist you in selecting the best water heater for your residence. We also execute the installation procedure precisely to guarantee optimal performance and energy efficiency.
Plumbing Services by Master Plumbers in Haskell, NJ
A well-functioning plumbing system is essential for everyday existence, from cooking and cleaning to bathing and flushing. When plumbing issues arise, you can access our master plumbers in Haskell, NJ who can provide efficient solutions.
Clogged sewers can be an annoyance in any residence. Whether you have a slow-draining sink or a clogged shower, our drain cleaning services can help. We use advanced methods and tools to clear obstinate clogs and restore proper drainage.
Sewer Repair and Cleaning Services in Haskell, NJ
Sewer problems can be more than a nuisance; they can pose health hazards and cause property damage. Our sewer repair and cleansing services in Haskell, NJ focus on resolving issues with sewer lines. We conduct comprehensive inspections to identify problems such as tree root intrusion, pipe corrosion, and obstructions and then offer practical solutions to prevent further damage.
Toilets and showers are essential household fixtures that are used daily. When they malfunction, your daily routine can be disrupted. Toilet and shower repair can swiftly diagnose and repair problems like leaks, clogs, and faulty parts, ensuring these fixtures function reliably.
Gas Water Heating Line Services
Gas water heaters are the most common method of providing hot water in many households. Gas water heating lines need specialized care for optimal safety and performance. Our services offer gas water heater installation, maintenance, and repair, ensuring the reliability and security of your hot water supply.
Sink and Faucet Repair Services
A leaky sink or faucet can waste water and increase utility costs. Sink and faucet repair services in Haskell, NJ can address these concerns expeditiously. We can repair or replace worn-out components and ensure your plumbing fixtures function properly.
Hot Water Heater Services in Haskell, NJ
Our services guarantee a steady supply of hot water whenever you need it. Whether you require installation, maintenance, or repair, our skilled technicians have you covered. We provide various water heater options, including conventional tank-style heaters and energy-efficient tankless models, to meet your specific requirements.
Our quick installation process ensures optimal performance and energy efficiency. Regarding maintenance and repair, our skilled team swiftly diagnoses and resolves any issues, ensuring the continued reliability of your hot water supply. We provide superior water heater services that ensure your daily comfort.
Sump Pumps and Water Removal & Installation
Our sump pumps and water removal and installation services in Haskell, NJ are your go-to options when protecting your home from potential water damage and flooding. We provide superior installation, maintenance, and repair services for sump pumps.
Our specialists evaluate your home's requirements and recommend the ideal sump pump system to keep your basement dry and safe, even during intense rainfall. Our water removal services are designed to efficiently extract water from your property in case of water accumulation. With our comprehensive sump pump and water removal solutions, you can rest assured that your home is in professional hands.
Considering expertise, dependability, affordability, and customer satisfaction is essential when selecting the best plumbing and air conditioning repair services in Haskell, NJ. Super Service Plumbers Heating and Air Conditioning excels in these areas, ensuring you receive superior services for your house's systems.
Maintaining a comfortable and functional home needs access to trusted plumbing and air conditioning repair services.
Whether you have a plumbing emergency, require a new air conditioning installation, or need heating system repairs, we are here to help.
Make sure to pay attention to the safety and comfort of your property. Choose the Super Service Plumbers Heating and Air Conditioning to ensure that your systems are in the hands of competent professionals.
Please contact our experts immediately to schedule an appointment or request a quotation. Our top priority is your comfort and functionality, and we are prepared to provide exceptional services. Ensure your home is in optimal condition before an issue becomes a major problem.