Toilet shower repair Services in North, NJ
Super Service Plumbing Heating and Air Conditioning handles toilet & shower repair with our signature 5-star service for homes and businesses throughout the North New Jersey area. Problems with toilets and showers can interrupt your life and daily routine while potentially causing other problems in your house when they stay unfixed. Our experienced technicians respond to all service calls immediately and get your plumbing services repaired fast. Super Service Plumbing Heating and Air Conditioning is fully licensed and insured in all forms of heating, cooling, and plumbing service repair and installation.
With over 40 years in the business, Super Service Plumbing Heating and Air Conditioning can help with air conditioning service, boiler repair, furnace replacement, rooftop HVAC systems, central air service and more. We offer low rates for every type of service and take emergency calls 24/7. When you need toilet and shower repair, call us up and watch our skilled crew fix the problem before it becomes a major headache. We offer help with:
Super Service Plumbing Heating & Air Conditioning
We deliver 5-star heating, cooling and plumbing service to our New Jersey customers. With over 40 years of experience in the business, Super Service Plumbing Heating and Air Conditioning has unparalleled expertise in every type of repair. It is important to take care of all toilet and shower repair issues before the problems spread to other areas of the house. Small issues often become major headaches when they are ignored. We offer low rates for every type of plumbing service and have web discounts available.
Making Sure You Stay in Total Comfort
Whether you are experiencing heating system and boiler breakdowns in mid-winter or AC service interruption in mid-summer, Super Service Plumbing Heating and Air Conditioning will take your emergency call and dispatch our teams of experienced technicians to fix the problem. We want all of our New Jersey customers to stay in total comfort in their homes and let our 5-star service speak for itself. The difference between our heating and cooling repair service is our attention to detail.
Reliable Toilet Shower Repair
in Hawthorne, NJ
Welcome to Super Service Plumbers Heating and Air Conditioning, the most trusted resource for high-quality toilet shower repair in Hawthorne, NJ. We know the annoyances that arise when your bathroom fixtures are malfunctioning. We are here to provide dependable and practical solutions to ensure the continuity of your daily activities.
Our highly qualified technicians are committed to providing prompt and expert repairs using the industry's most advanced techniques and tools. You can rely on us to deliver results that surpass your expectations. Forget about the leaks, clogs, and cold showers; let us be your go-to plumbing and heating solution.
Signs You Need Toilet and Shower Repair
in Hawthorne, NJ
Toilet Leaks: Toilet leaks can occur due to damaged seals or loose connections. Water may escape from the base, tank, or supply lines, leading to water wastage and potential damage to flooring or substructures.
Clogged Drains: Clogged shower or toilet drains result from the buildup of hair, soap scum, or foreign objects. It can cause slow drainage, water backup, and unpleasant odors.
Low Water Pressure in Showers: Low water pressure in showers is often caused by mineral buildup in the showerhead or pipe blockages. It can result in inefficient water flow, making showers less enjoyable.
Running Toilets: A toilet usually indicates a faulty flapper or fill valve. This problem can lead to a continuous water flow into the bowl, increasing water bills and wasting resources.
Faulty Shower Heads: Faulty shower heads can spray water unevenly or develop leaks, reducing the quality of your shower experience and potentially causing water damage to the surrounding area.
Potential Results of Leaving These Problems Unresolved:
As water is continually wasted, toilet leaks and running toilets can substantially increase water bills. Unresolved toilet leaks or obstructed drains can cause water damage to your bathroom's flooring and structures, necessitating costly repairs.
Low water pressure in showers and faulty shower heads can reduce the comfort and gratification of your daily showers, diminishing your bathroom's enjoyment.
Clogged sewers and standing water can provide a breeding ground for harmful bacteria and pests, threatening your family's health. Water loss due to unresolved plumbing issues contributes to water scarcity and has adverse environmental effects.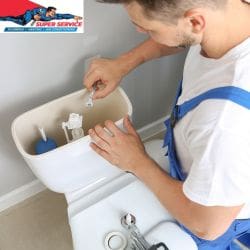 Our Toilet Shower Repair Services
Toilet Leak Detection and Repair: We are experts at locating and repairing those difficult-to-find breaches that can cause water damage and increase utility bills. Our skilled technicians use the best equipment and methods to quickly identify and fix toilet leakage, preserving the integrity of your bathroom.
Clog Removal: With our efficient clog removal services, you can avoid these annoying lavatory clogs. We eliminate even the most obstinate clogs, restoring the functionality of your toilet and preventing messy overflows.
Drain Repair or Replacement: A faulty draining mechanism may result in inconsistent flushing or water waste. Our skilled team repairs or replaces these systems, ensuring your toilet conserves water and functions flawlessly.
Efficient Toilet Shower Repair
in Hawthorne, NJ
Shower Head Replacement: Our showerhead replacement service improves the quality of your shower. We offer an extensive selection of high-quality shower heads to accommodate your preferences, including water-saving options. We have the ideal shower head for you, whether you desire a refreshing rainfall effect or a powerful flow.
Drain Unclogging: A sluggish shower drain can be an everyday annoyance. We are experts at efficiently removing these obstructions, restoring proper drainage, and preventing water buildup in your shower.
Water Pressure Optimization: If the water pressure in your shower leaves much to be desired, our team will diagnose and resolve the problem. We ensure your shower has a consistent and refreshing discharge, enhancing your overall bathing experience.
Why Choose Super Service Plumbers Heating & Air Conditioning
Choose Super Service Plumbers Heating and Air Conditioning for all your toilet shower repair requirements due to our unmatched expertise, efficiency, and commitment to customer satisfaction. Our proficient plumbers are trained to deal with various plumbing issues, ensuring that your bathroom fixtures are in excellent condition. We prioritize timely service and employ the latest industry techniques and technology to provide long-lasting solutions.
We offer transparent pricing, pleasant customer service, and a dedication to exceeding your expectations. When you select us for your plumbing and heating requirements, you choose dependability, professionalism, and peace of mind.
We are committed to ensuring the smooth operation of your bathroom fixtures. Our expert team is just a phone call away, ready to provide prompt and trustworthy repairs. With our assistance, you can enjoy the convenience and comfort of a completely functional bathroom.
Contact us immediately for superior toilet shower repair in Hawthorne, NJ, and allow us to restore your plumbing and heating to perfection. Your satisfaction is our top priority, and we are here to ensure that your residence remains cozy and trouble-free.